The Laeken cemetery is the oldest of all the cemeteries in Brussels still in function. Very popular among tourists and residents alike it's often dubbed as the little brother of the Père-Lachaise cemetery in Paris. The Cimetière de Laeken rose massively in popularity when the Royal family chose the adjacent Notre-Dame de Laeken Church as their burial grounds. Since then it became the final resting place of Belgian's rich and famous Personalities bringing some outstanding examples of 19th century funerary art. By looking at the titles engraved in the stones one notices profusion of ministers, mayors, advisers, renowned artist or high ranking officers.
Open from Tuesday to Sunday: 8:30AM – 4:30PM
Location of the Laeken cemetery:
Photos Cimetière de Laeken:
World War I soldier fallen at the age of 24 while heroically covering a retreat.
Mourning widow
Angel
Imploring the heavens
Endless rows of the many victims of the Great War that lay here
Grieving widows
Close up of a grieving woman
Looking at tower of Notre-Dame de Laeken Church located right at the back
Child with flowers
Young girl praying
The Thinker by Auguste Rodin
Jesus and Mary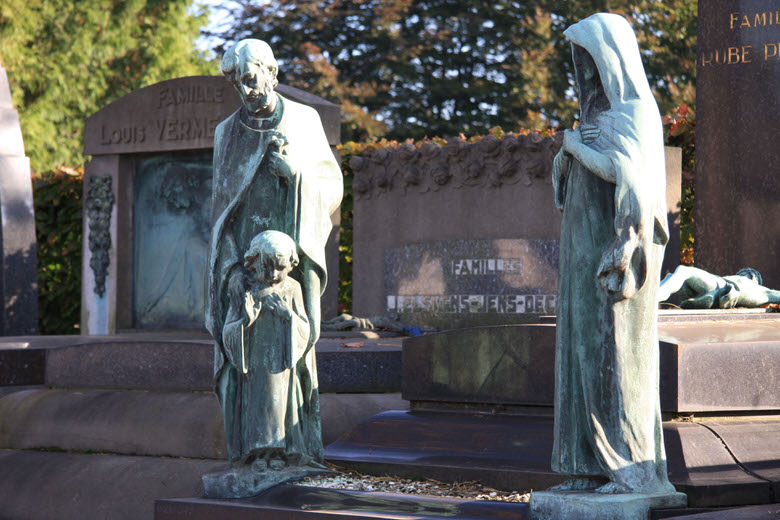 One of the many deserted paths across the cemetery
Loss of a loved one
Child resting his head
Widow locked inside her sadness
More expressions of grief
The imposing Notre-Dame de Laeken Church lays behind