The Royal Museum of the Army and Military History was created in 1910 at the Abbaye de la Cambre at the initiative of Louis Leconte, a carabineer who was its first, extremely dynamic curator. The museum moved into the Palais du Cinquantenaire in 1923. It is potentially the richest in the world, extending far beyond National military history and containing a number of extremely diversified collections owing to the very fruitful acquisition policy adopted by Louis Leconte. unfortunately, a large number of pieces are in reserve. The museum is currently being completely reorganized which means the visitor may find a few surprises or changes with respect to the description below. A library with a total of 450 000 volumes is open to the public.
Salle d'armes et d'armure — A splendid display of 11C- 18C weapons and late 15C-17C amour of the Archduke Albert (worn during his "Joyous Entrance" in July 1599) and his horse which he had stuffed after it saved him during the siege of Ostend, together with his wife's,the Archduchess Isabel: an astonishing child's suit of armor (16C) which belonged to Joseph-Ferdinand of Bavaria, the son of the Governor of the Netherlands.
Collection Titeca et Ribaucourt — Housed under the quadriga of the archways in a long room resembling a vaulted cellar, this varied collection consists of some 300 items of military headgear (pre-Revolutionary France. England, Germany, Russia, Belgium, French First Empire, Second Empire and Restoration), 600 sabers and swords, as well as First Empire uniforms and musical instruments. The two terraces afford magnificent panoramic view of the capital and the trunk road created by Leopold II , the avenue de Tervuren.
Salle de la Révolution brabançonne et de I'Empire (1750-1815) — Two sections, or more precisely two small displays, are devoted to the two eventful periods which preceded independence. Numerous paintings (mid-19C) by Jules van Imschoot commemorate the episode of the Belgian "United States" Army. Opposite, various souvenirs evoke the French period, particularly the Battle of Waterloo. A portrait of Napoleon is attributed to Jacques-Louis David.
Salle technique — Scheduled to reopen shortly. The pieces, mainly portable firearms, come from the Herstal National Factory. The room is very interesting from a musicological point of view (the oldest in this respect in Belgium, along with the Salle historique).
Salle historique (1831-1914) — this room contains the essence of the museum's collections; the disparate display shows the development of the Belgian army's uniform, the Civil Guard, the Belgian Royal Navy, long-distance expeditions, and the Belgian voluntary overseas service, from Congo to Pekin, Mexico, headgear and equipment from the war of 1870, Personal effects (clothing and decorations) of Belgium's first two kings, Leopold I and Leopold II.
Belgian army uniforms
Belgian army uniform of General Terlinden

Belgian army uniform of Lt.General Baron Chazal

Belgian Army uniforms Egyptian expedition

Belgian Army uniforms Arab expedition
Belgian Army uniforms Mexican expedition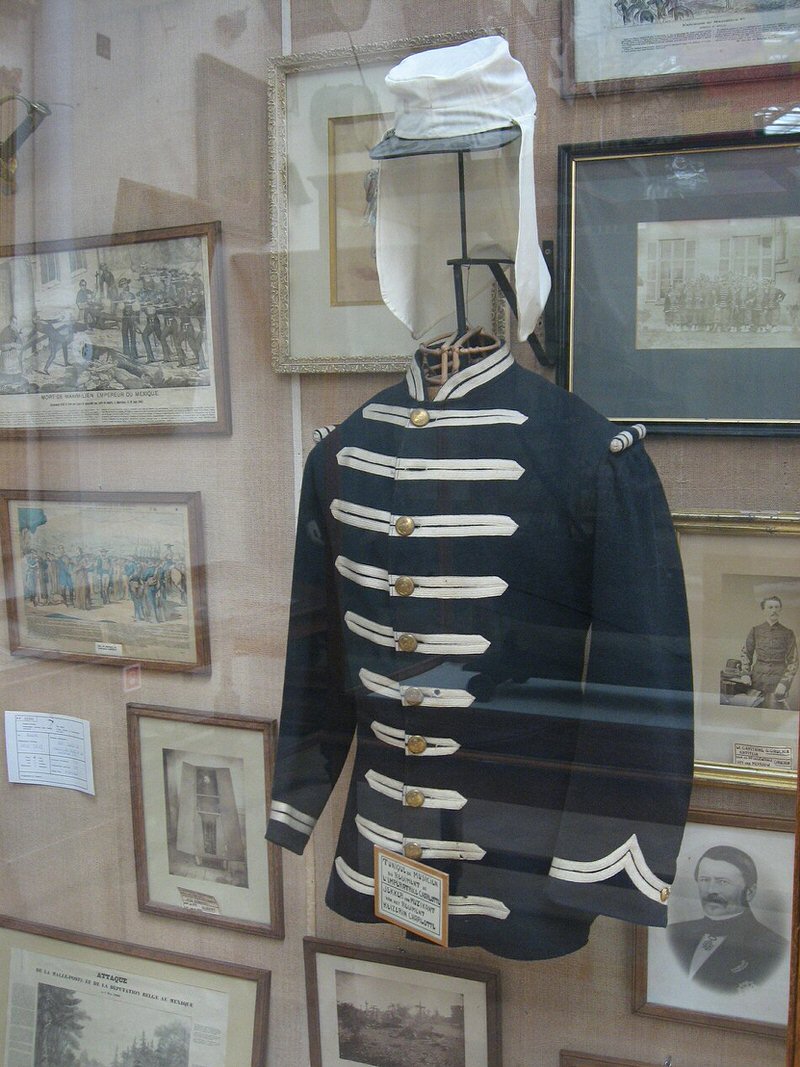 Belgian Army uniforms Italian expedition
Salle 1914-18 — This new room displays various uniforms, weapons, helmets and relics from everyday life, from all the armed forces that at fought in the First World War. An audio-visual presentation illustrates the flooding of the polders, an episode from the Battle of the Yser.
First World War Artillery
First World War Artillery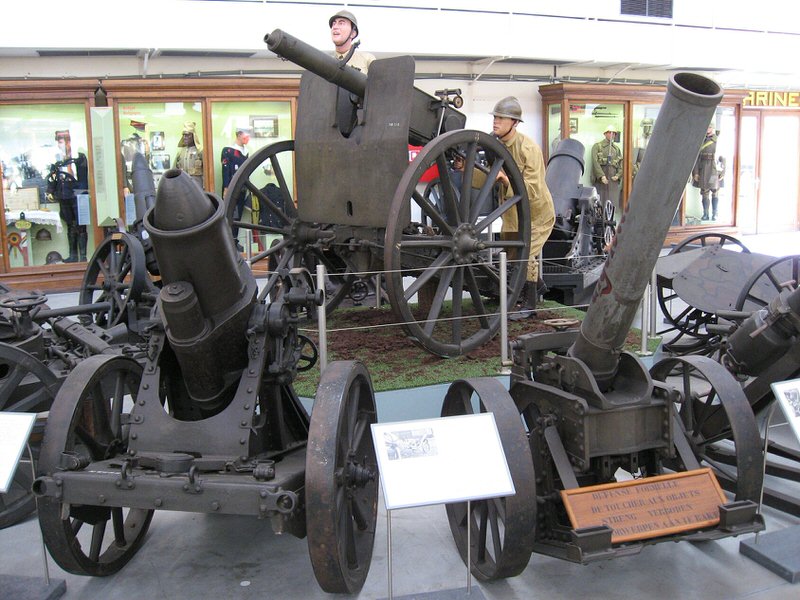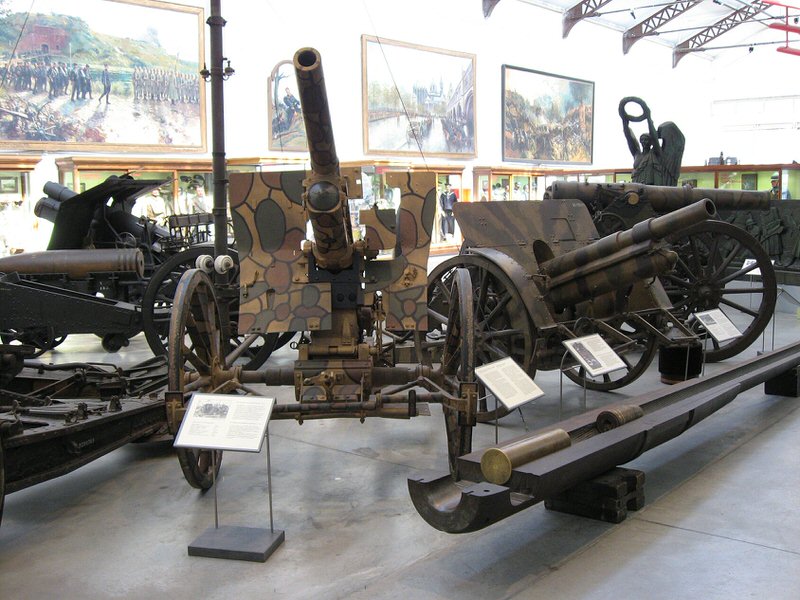 WWI French morter 270mm from 1885
WWI German AA
WWI Houwitzer 100 mm
WWI Houwitzer M 1913
WWI German head gear
WWI German headgear close up death heads 'totenkopf'
WWI automatic weapons France and UK

WWI automatic weapons germany
WWI semi-automatic weapons
WWI French light tank FT-17
WWI English Mark IV tank

WWI USA Uniforms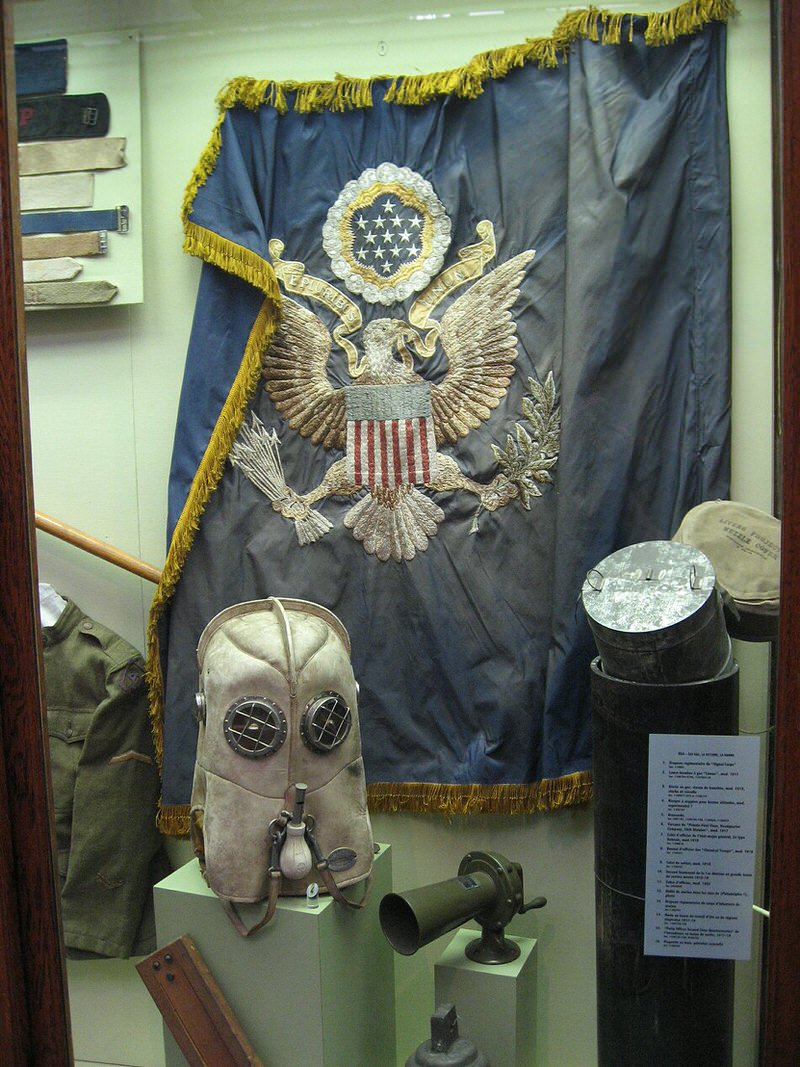 WWI Russian Uniforms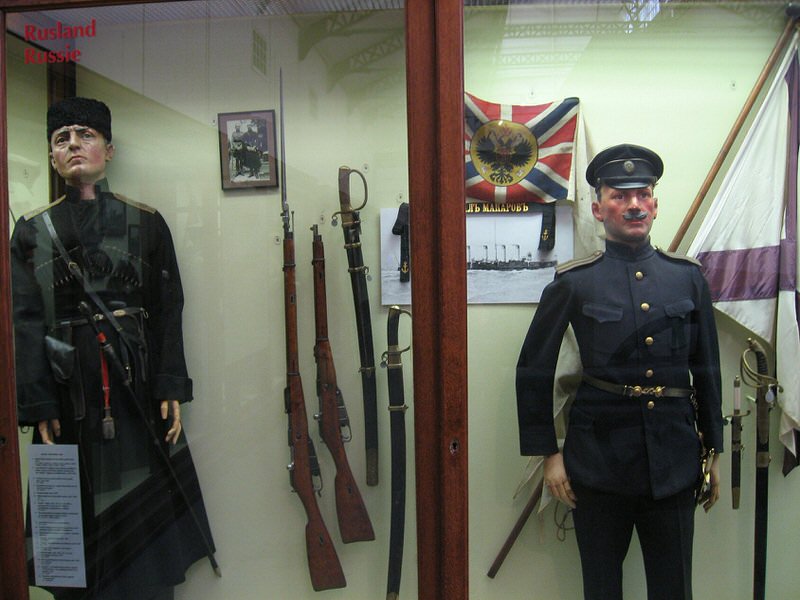 WWI Italian Uniforms
WWI Siam Uniforms
WWI Japanese Uniforms
WWI Belgian Uniforms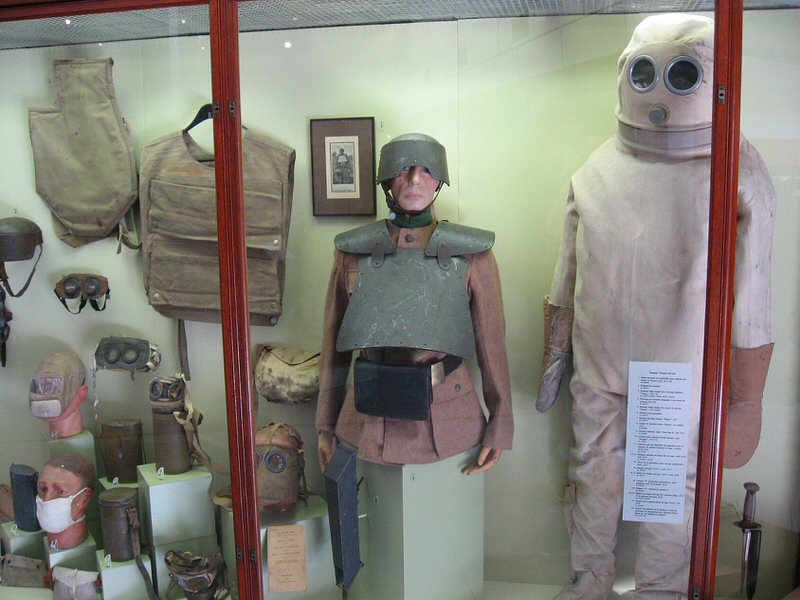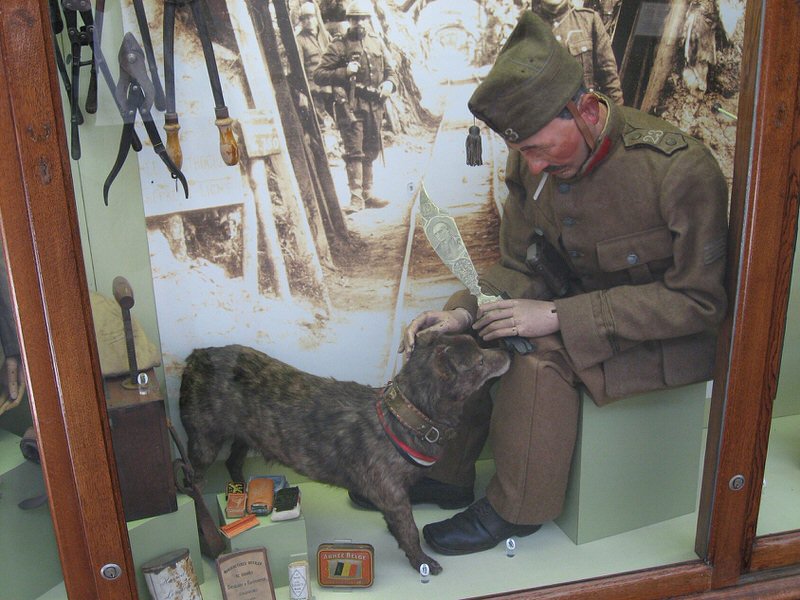 Halle Bordiau (1914-18 and 1940-45) — located in the vast Bordiau Hall, the collection consists of uniforms and helmets from every corner of the World.
Word War II
As the Germans advance the population flees
WWII Feldgendarmerie (German Military Police)

WWII German SS concentration camp uniform
WWII Battle for Stalingrad uniforms
WWII Battle for Stalingrad German debacle

WWII Russian uniform

WWII Swiss Uniform
WWII SS Vehicule

WWII German Flakturm AA Battery

WWII Ordinary life inside a German Bunker

WWII German insignia found in Brussels
WWII German youth movement for Belgian girls uniform

Belgian Nazi collaborators uniforms
D-Day Airborne jumping

D-Day Airborne landing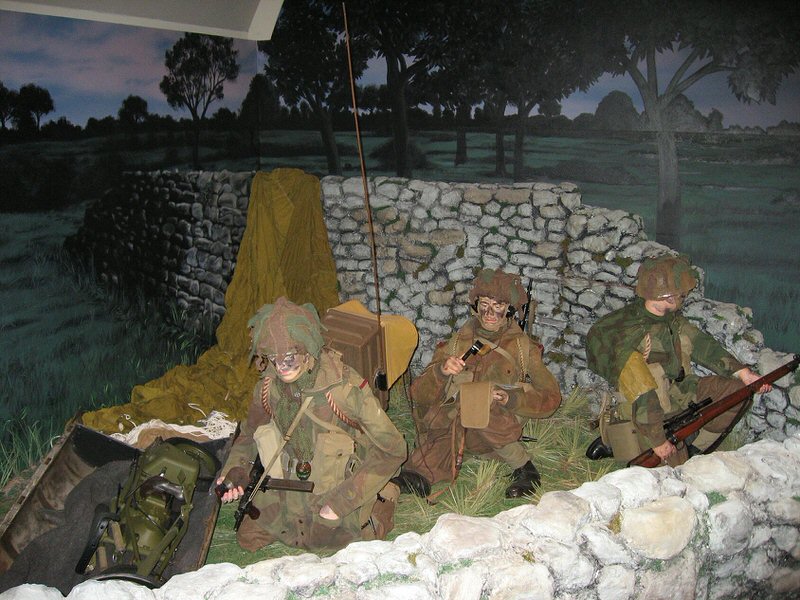 D-Day Fight
Section Navale — This small section includes the Avila, a ship that belonged to King Baudouin, and the Meuse, a river launch
Section Air et Espace – The Air and Space section, which has been built up through an exchange system and is housed in a huge hall, includes some 150 aircraft, dominated by a Sabena Caravelle; the collection consists principally of fighter aircraft, of which 70 are on display.
On the ground floor are fighter-bombers, and propeller and supersonic aircraft including the following: a British Spitfire (1943 – the most famous), a 1945 Havilland Mosquito and a 1951 Meteor; an American Douglas DC3 "Dakota", a Fairchild C119 (1950 – used in Korea and Vietnam), a 1950 Sabre, and a 1958 Phantom; a 1945 Belgian Stampe (a biplane of worldwide renown), a Soviet Mig (1958 and 1975), a French Dassault Ouragan (1949 – the first mass-produced French jet aircraft), and a Fouga Magister (1951 Ithe first trainer jet in the world). Three subsections present engines from 189 to today, Belgian military aviation in Africa and Belgian expeditions to Antarctica. Apart from a small section devoted to ballooning, the gallery mainly features a par­ticularly fine collection of First World War aircraft; a copy of Baron Manfred von Richthofen's German Fokker, a British Bristol, a Caudron, a Maurane-Saulnier, a Schreck, a Span, a French Voisin etc.
Air & Aviation WWII
C-119 Flying box car

DC-3 Dakota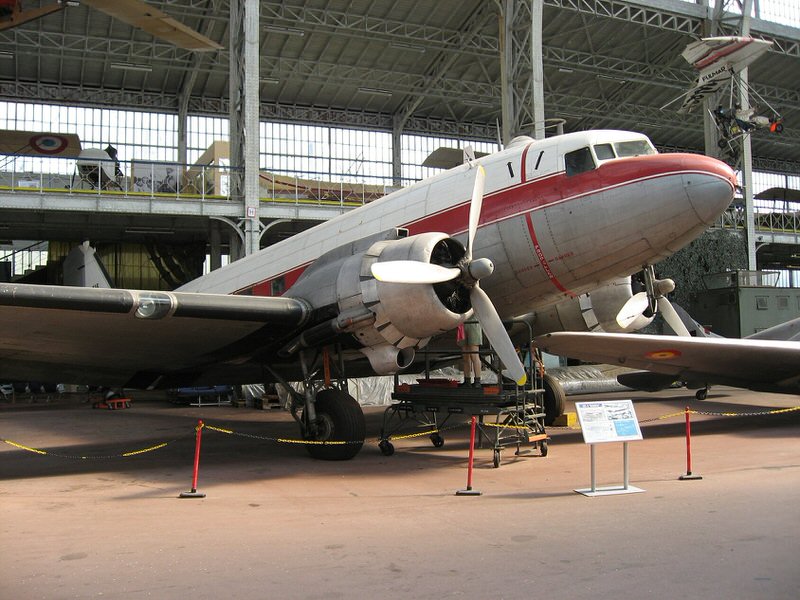 USSR MiG 17
USSR MiG 23
De havilland tiger moth
Miles magister
Spitfire MK IX

Spitfire MK XIV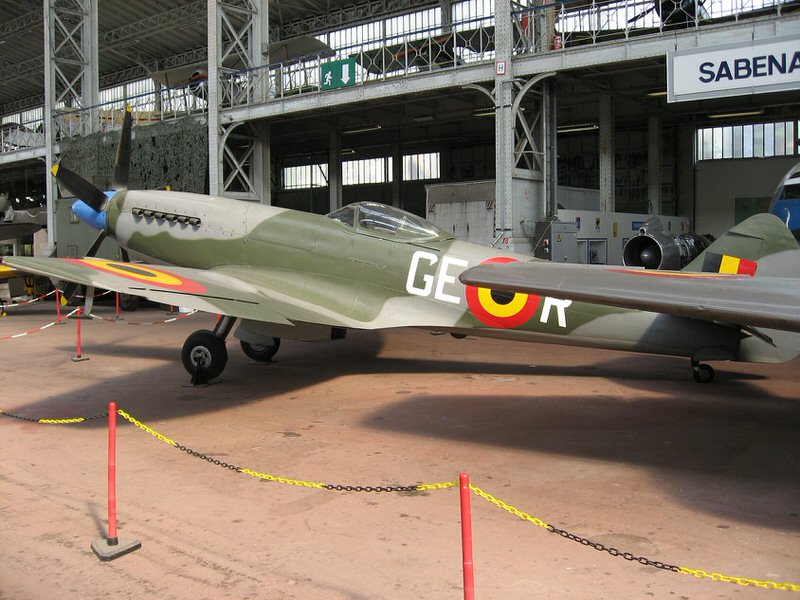 Dassault Mirage 3
Fairey-battle
F-16

F-16 Back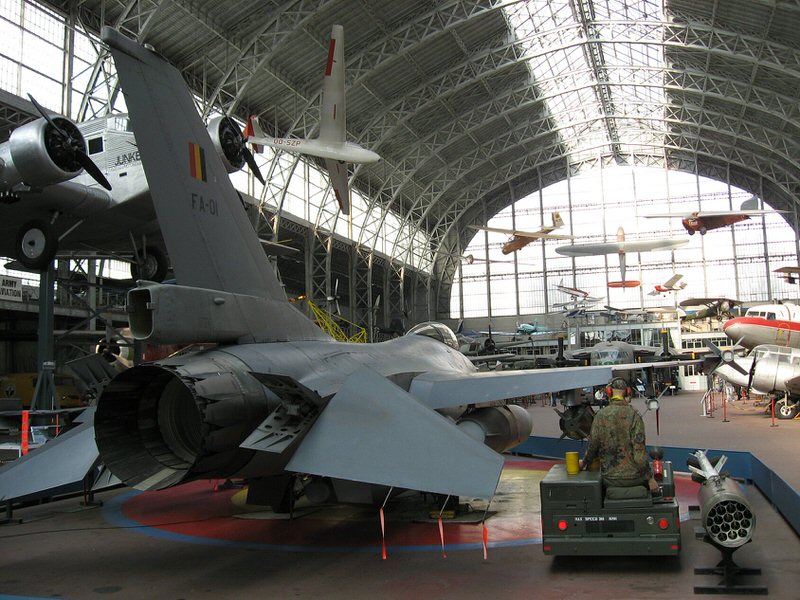 Section des Blindés – In the open air; access via avenue des Gaulois which runs along the small park on the residential side. This collection of armored vehicles contains both Belgian vehicles (from 1935 onwards) and models from other countries (United States, France, Great Britain, Czechoslo­vakia, and USSR). The most historic piece is a 1917 Mark IV ( displayed in the WWI section) tank with its orig­inal paintwork.
German Tank Tiger IV
Russian USSR IS-3-STALIN
USA Tank M24-Chaffee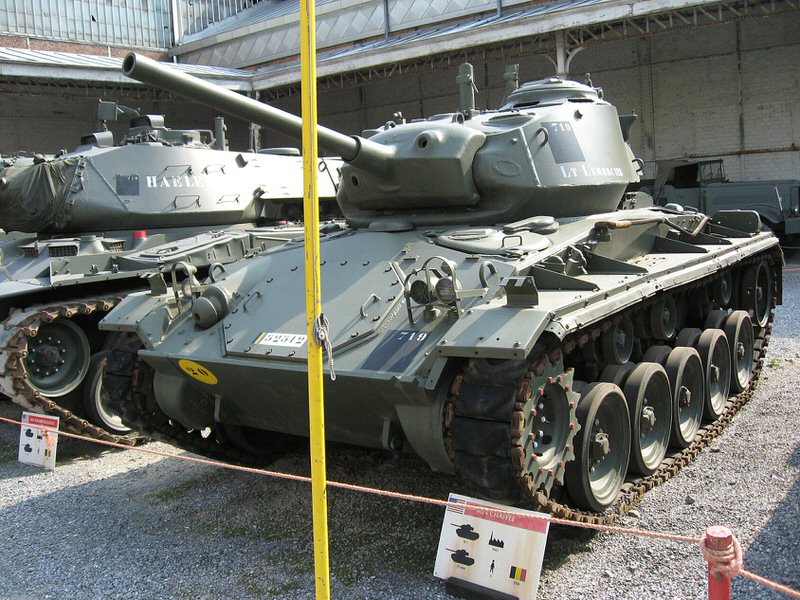 USA Tank M4AE2 SHERMAN JUMBO
German Hetzer G-13D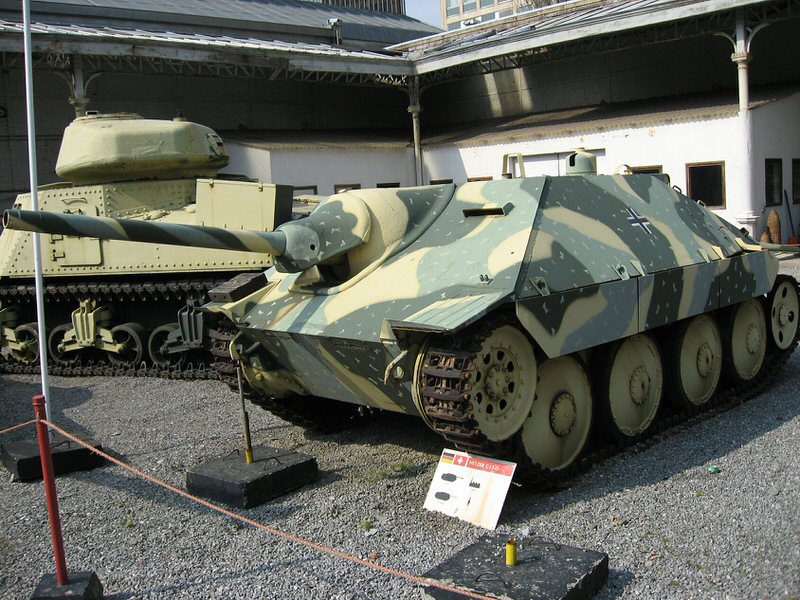 USA Tank M4A4-Sherman
USA Tank M41 waker bulldog
USA Tank M47-Patton II
USA vintage armored cars