Autoworld's collection of French cars by Alphabetic order: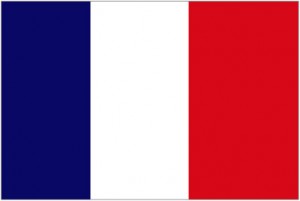 Alva 1913 (Alva C) — 4 cyl. — 1767 cc
A small Parisian manufacturer from Courbevoie. The owner, a doctor, ordered a "Doctor's Coupé" for his house calls.
BUGATTI 1930 (Bugatti 49) – 8 cyl. – 3257 cc
This is a 2-door, 4-seater saloon. A successful design by Jean Bugatti, the son of Ettore.
BUGATTI type 23 "Brescia" 192
Engine with 4 Cylinders — 1496cc – Power : about 50 HP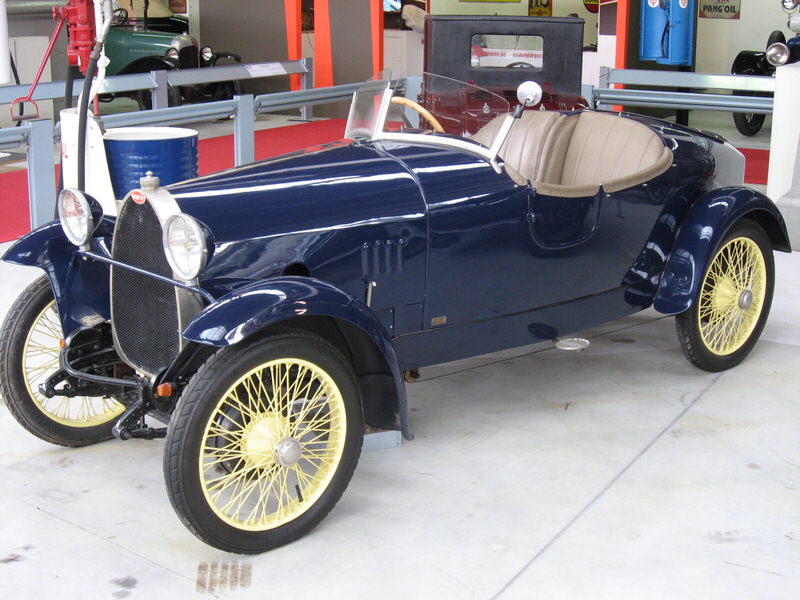 Bugatty type 57 – 1952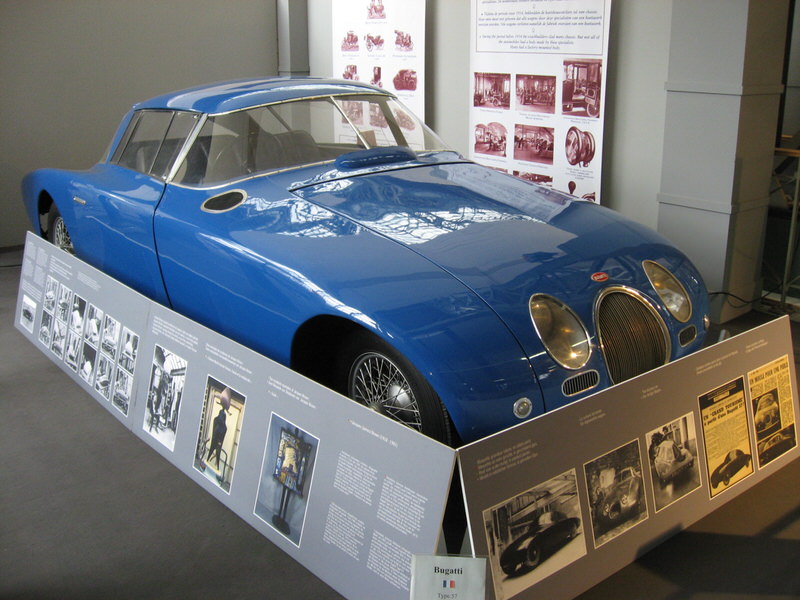 Chenard-Walker 1913 – T-2 – 7 HP – 4 cyl. – 1590 cc
A typical high quality, moderately priced, French car from the immediate post-First World War period.
Citroen 1934 (Citroen 7A) – 4 cyl.
The first front-wheel drive Citroen of which 7000 were produced.
The 'Traction Avant' has an integral monocoque construction and independent front suspension. The low chassis number suggests that it is probably the oldest 7A to survive.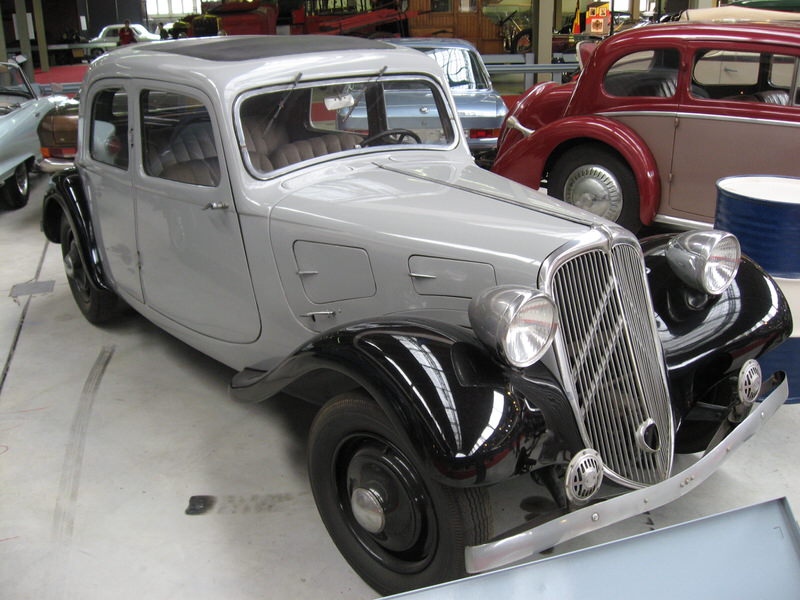 Citroën 1957 – Type AZ — 2CV — 425 cc.
The specification of the 2CV was a masterpiece of economy.
Manufactured from 1948 to 1988, few other cars can boast such a long production run.
Citroen 1969 – DS 21
Matey Collection
Clement Bayard 1913
Cottereau 1901 – 2 cyl. – 1884 cc.
Ghent circus atmosphere. A wreck awaiting restoration
Darmont Special 1927 DS — 1084 cc
This car is a French-made version of the British Morgan. It has the same "raw" sports car characteristics and can reach speeds of up to 160 km/h.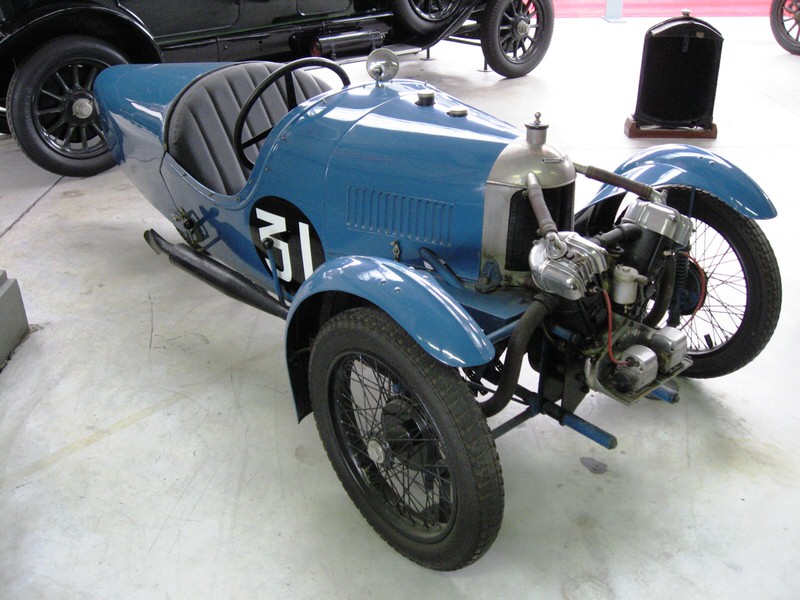 Darracq 1911 – 15 HP – 4 cyl. – 2412 cc
This avant-garde open tourer style replaced the soon-to-be outmoded phaeton. Factory-fitted bodywork.
Darracq 1913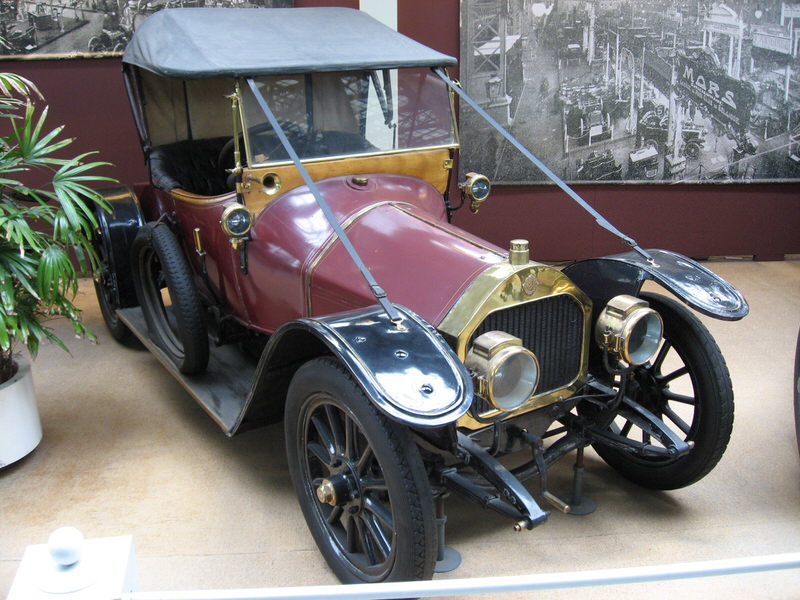 De Dion-Bouton 1901 (De Dion-Bouton G) – 1 cyl. – 498 cc
The personal car of Count Albert De Dion, who bequeathed it to his chauffeur, Zelele This Vis-Ã -vis is one of the rare models, if not the only one, to have wooden spokes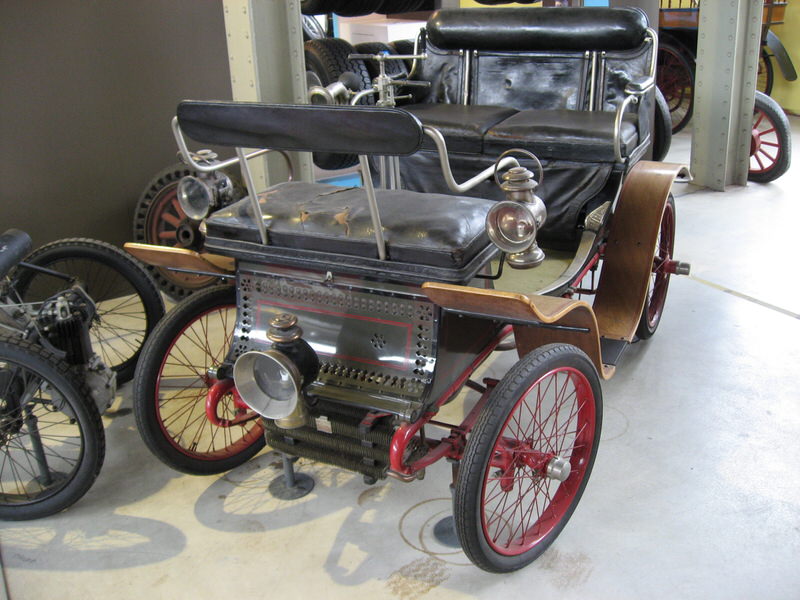 De Dion-Bouton 1906 – 8 HP Populaire – Type M. – 1 cyl. – 942 cc
The Populaire, which appeared in 1902, was famous for its 'crocodile' bonnet, which was copied by many other manufacturers. Originally the Populaire was a two-seater, but in this case it was extended and converted to the Tonneau version.
De Dion-Bouton-1912
De Dion-Bouton 1913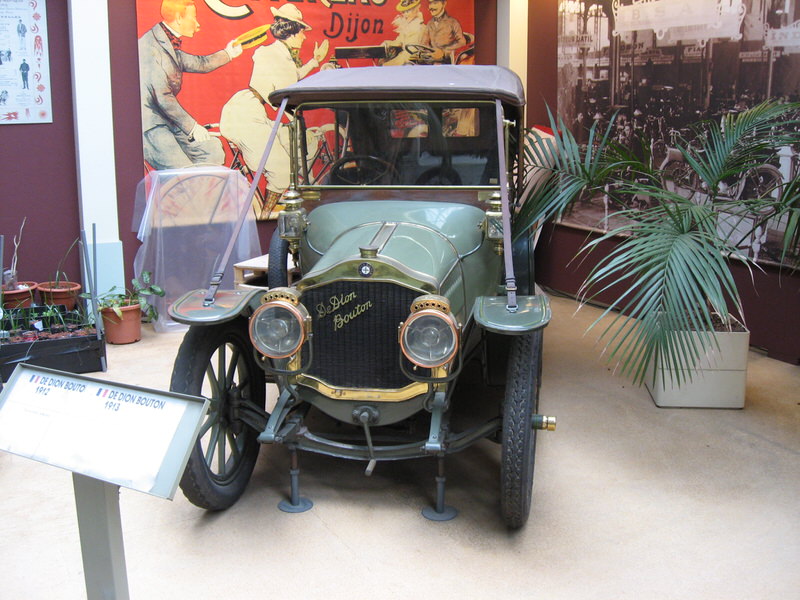 Delahaye 1907 – 4 cyl. – Paris Fire Brigade
The first purpose-built fire engine offered in the Delahaye catalog. This vehicle was part of the first delivery to the city of Paris. It had chain drive and the tires are solid because of the weight
Delahaye 1910
Delage 1910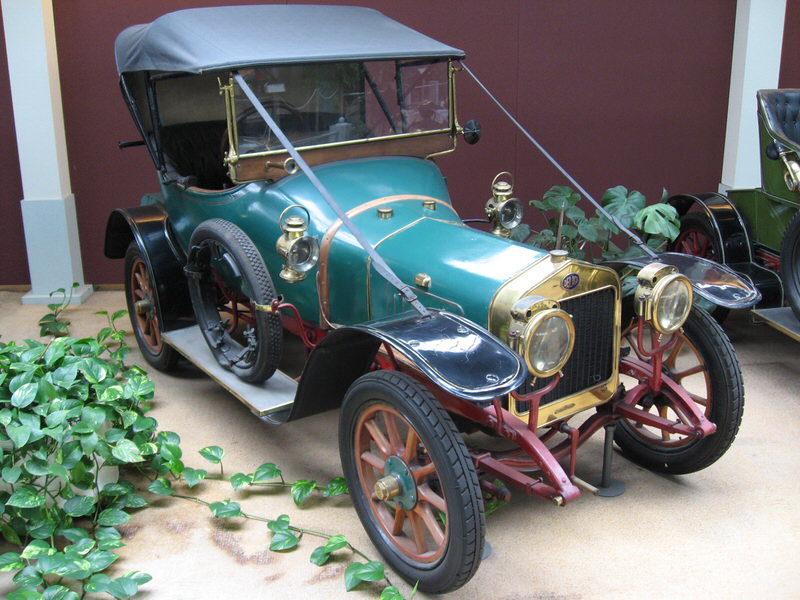 Delage 1920 (Delage CO) – 20 HP – 6 cyl. – 4530 cc
With this chassis, Delage entered the luxury car market in the 1920s. With its sporting tourer body, this large car had four-wheel brakes.
Delahaye 1938 – 135M – 6 cyl. – 3557 cc.
One of the most interesting French sports cars, with a well-balanced shape. Its powerful 3-carburettor engine and Cotal gearbox enabled it to win many rallies and races.

Hispano-Suiza 1935 – K-6 – 30 HP – 6 cyl. – 5184 cc.
This K-6, the smallest model in the range, has Chapron bodywork in a chauffeur coupe. It is finished in metallic paint, the latest American novelty. This make exported French prestige all over the world.
Hotchkiss 1939
Leon Bollee 1896 – Voiturette – 2 HP -1 cyl. – 640 cc
The son of Amédée, who produced the first steam-driven car in France. Leon built a small petrol-driven car with belt transmission. It was a two-seater vehicle with three wheels. but it had no suspension.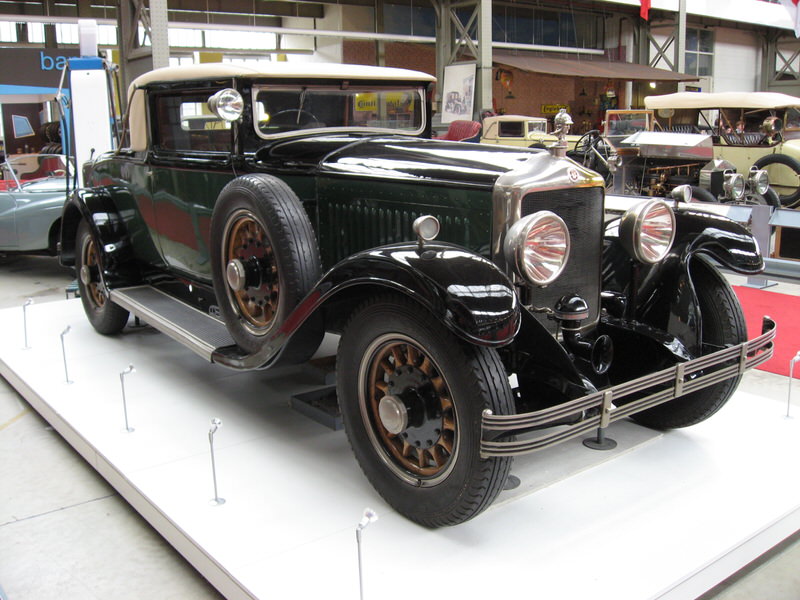 Le Zebre 1916

Le Zebre 1911 (Le Zebre A-4) – 5 HP – 1 cyl. – 680 cc
The first popular low-budget car to be widely available. It was designed by Jules Salomon, who designed the first Citroën after the war.
Lorraine Dietrich 1911
Omega Six 1929 – Serie A Lowered Omega Six racing car. It took part in a lot of competitions during the thirties.
Matra 1971 – Matra 530 LX – 4 cyl. – 1698 cc.
A French sports car aimed at young people. Avant-garde body made from polyester (epoxy resin). The engine was a centrally positioned Ford Taunus V4.
Panhard 1922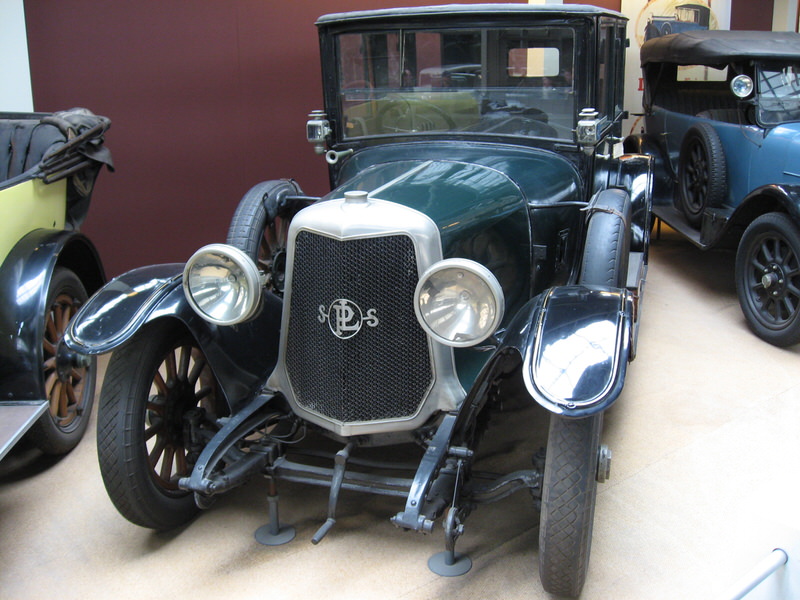 Panhard 1937
Peugeot 1905 (Peugeot 68) — 718 HP — 1 cyl. — 820 cc
The car begins to look more modern, with a honeycomb radiator in the bonnet. The rear seats are reached by pivoting the left front seat. This system was known as the "Tonneau Lateral".
Renault 1908 – Renault V – 20/30 HP – 4 cyl. – 4387 cc
'Grand Prix'-type racing car for speed events, which excelled in regional races. A riding mechanic always traveled with the driver during a race.
Renault 1909 (Renault AX) – 8 HP – 2 cyl. – 1060 cc
The archetypal popular car, manufactured from 1905 to 1914. The popularity of these two-cylinder cars boosted Louis Renault's industrial success.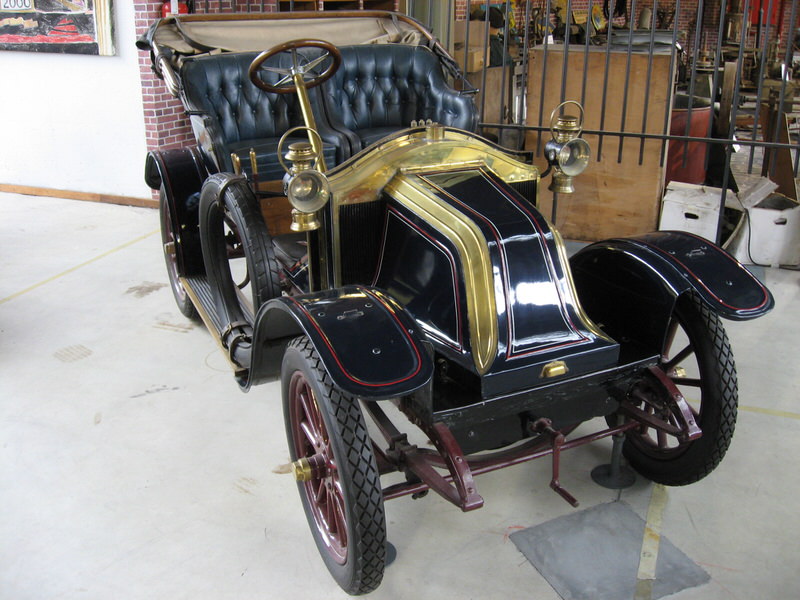 Bébé Peugeot 1913 – Peugeot BP-1 – 4 cyl. – 856 cc
This car has the type 13 "baby" body designed by Ettore Bugatti.
Peugeot 1915
Peugeot 1924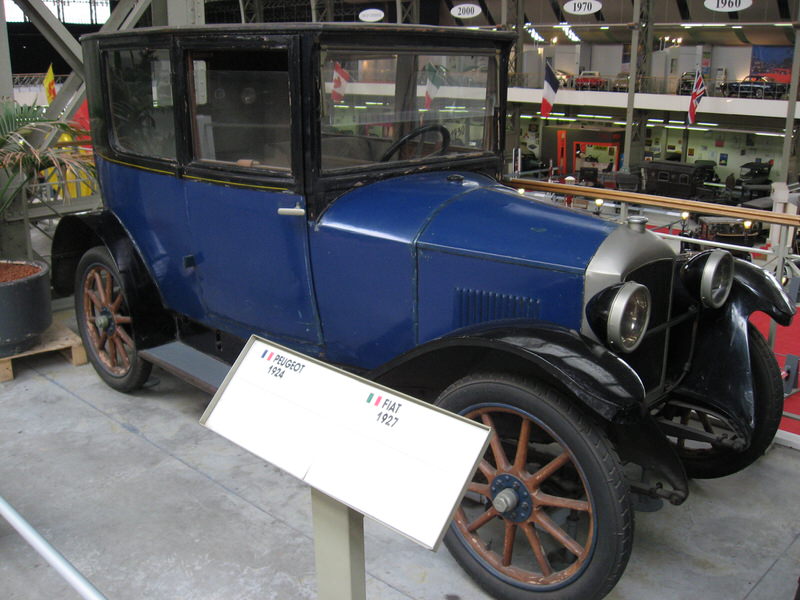 Peugeot 1959-60 (Peugeot 403) – 4 cyl. -1465 cc.
A solid middle-range saloon, typical of the period. which marked the start of a long collaboration between Pininfarina and Peugeot.
Porquerolles 1973 – A French electric car aimed at making cities cleaner. A large-scale advertising campaign was mounted in the centre of Paris to persuade people that it worked.
Renault 1908 (Renault X-1) – 14 HP – 4 cyl. – 3050 cc
The "Master's Car" was the choice of company bosses and rich property owners with their own household staff, including chauffeurs. Note the speaking horn for giving instructions.
Renault 1921 (Renault IG) – 10 HP – 4 cyl. – 2116 cc
Louis Renault was the uncontested rival of Andre Citroen, the first manufacturer in Europe to use a production line, followed by Renault. Renault's cars were middle-range models and more American in style than those of Citroen, hence the steering wheel on the left.
Renault 1924 – 18 HP – 6 cyl. – 4764 cc
A type of "1920s Beauty", its well-proportioned chassis supports a false landaulet coupé body built by the Belgian coach builder Gamette of Liége.
Renault1954-55 – 4 HP – 4 cyl. – 760 cc.
One of the popular cars of the immediate post-war period, the famous rival of the 2CV. It put the French back on the road, and more than a million were produced between 1946 and 1961.
Rochet-Schneider 1911 – 10200 series —12 HP — 4 cyl. — 2410 cc
An excellent top-of-the-range car built in Lyon. Its traditional double phaeton body could be used as a landaulet, i.e. with a half or 3/4 hood.
Rovin 1950 – D-3 – 2 HP – 2 cyl. – 425 cc.
An example of the microcars that flourished in the devastated post-war Europe. The arrival of 'real' cars like the 2CV and Renault 4 caused the premature demise of cars like the Rovin.
Sizaine et Naudin 1910 – 12 HP — 1 cyl. — 1469 cc
This make was unique for its transverse spring which allowed the wheels to operate with relative independence. The car was fitted with all possible accessories: headlamps, windscreen and hood.
TALBOT 1924 – Fernandez collection
Voisin 1929 (Voisin C-14) – 13 HP – 6 cyl. – 2327 cc
Gabriel Voisin, the aircraft manufacturer, was an engineering iconoclast whose cars were inspired by aviation technology (hence the aluminum bodywork). His cars were innovative and not particularly good-looking.